Hello!
So today I am going to blog about my favourite perfumes. Why you - may ask? Because I am searching for my next perfume - something stronger, but not overpowering, suitable for night time.
First of all- I was 18 when I got my first perfume as birthday present from my mother. I remember when we went together to Tartu Kaubamaja (it is department store) and she let me pick out a perfume. This time I chose Elizabeth Arden Green Tea Tropical. I used this perfume a lot on my first university year- that's the year when I started dating with my boyfriend and so this smell always brings back sweet memories. There is still a little bit left in the bottle and I really want to keep it. Unfortunately this was limited edition. As I am bad a describing perfumes, I will just add the description here:
Green Tea Tropical by Elizabeth Arden is a Aromatic fragrance for women. Green Tea Tropical was launched in 2007. The nose behind this fragrance is Rodrigo Flores-Roux. Top notes are litchi and passion flower; middle notes are green tea, tea and magnolia; base notes are musk and tropical fruits.
When I was younger I just used my mother's perfumes- she had a few and some of them were lighter and appropriate for young girls. ;)

The perfume I use now on daily basis is Donna Karan New York(DKNY) Be Delicious. I have used up one bottle completely and now I am using second bottle of this. Just love this perfume. Deliciously fruity and light smell.
And here is the description again:
A modern feast for the senses. Served in a sleek metal and glass apple bottle, this juicy fragrance combines the scent of apple with a sophisticated blend of exotic flowers and sensual woods. Like the city that inspired it, Be Delicious celebrates individuality with refreshing spirit.
Notes:
American Apple, Cucumber, Grapefruit, Candid Magnolia, Tuberose, White Muguet, Rose, Violet, Sandalwood, Tender Skin Accord, Blonde Woods, White Amber.
Style: Free-spirited. Refreshing. Unique.

So here are some perfume's that I like at the moment- I have tried them on my wrist and they have not been annoying or still noticeable when you are wearing it. I have heard that perfume suits you when you don't smell it on yourself, that does not mean that other's won't ;) So please don't spray it on 5-6 times, 1-2 times on your neck is enough- I hate it when I can't breathe next to someone, because he or she is surrounded by perfume cloud.
Firstly, I really like Lady million perfume by Paco Rabanne. I let my boyfriend smell this on my wrist and he told me that it's like the smell in perfume shop. lol. He might be not wrong, because it is said that this perfume is not something new but a mixture of other great perfumes.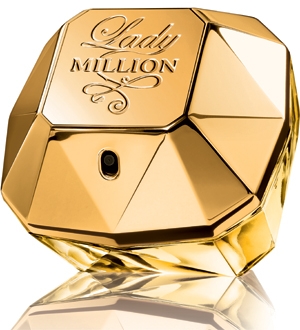 Here is short description:
Vibrant, sensual- fresh, floral and woody at the same time.
notes: neroli, raspberry, orange blossom, jasmine, gardenia, patchouli, honey, amber.
Second perfume that I like is Giorigio Armani Acqua di Gioia.
Still I am bad at describing perfumes, so here is a description written by experts:
Heart notes : Jasmine, aquatic note
Top notes: Crushed mint leaves, limone primo flore
Base notes : Cedarwood heart, brown sugar, labdanum
Scent: Aquatic
Third perfume that I started to like around the same time as DNKY Be Delicious is Nina Ricci Nina.
Fragrance Notes:
fresh, floral and fruity perfume with mouth watering accents. A perfume deliciously inspired by the red toffee apple, with tender flesh and a crisp outside to tempt and charm.
Again fruity smell as you can tell. I have sniffed new Nina Ricci perfume too- L'elixir, but this one was too sweet and strong for me.
Let me know what is your favorite perfume and why do you like it. Do you have a story behind it?
Liz