Hey, beauties!
I wanted to share some beauty related products that I´ve been keeping my eye on for a few months.
Not relevant, but I did my last exam today, so it is officially summer for me now, that hopefully means more time for blogging.
Jagaksin teiega paari ilutoodet, millel olen juba paar kuud silma peal hoidnud ning nüüd plaanin ka ära osta. Paljud asjad on Sleek´ilt, nad saadavad küll kaupa Eestisse, aga see maksab 9€, nii et soovitan kellegagi kampa võtta. Ma ise sattusin seekord tellima Liina kaudu. Kas olete neist toodetest midagi proovinud ja kuidas meeldisid? Ma asjade teksti ümber ei tõlgi, nii palju vast ikka saate aru. ;) Kui ei saa, küsige kommentaarides.
Mul hakkas täna suvi! Nii hea.... :D
1. Real tehniques Core collection:
because brushes are so important tools for creating flawless looks. I chose these because I´ve heard so many good things about realtehniques.I mainly want this set for amazing buffing brush and great contour brush. I think the price in Estonia is 20-25€, should be available in Kaubamaja.
Sleekmakeup.com does ship internationally, but the shipping price is pretty steep, so I suggest you gang up with some of your girlfriends and order together! Shipping to Estonia is 9€ and to USA 13 $.
2. Sleek makeup ultra mattes palette in V2:
perfect mixture of dark,
matte eyeshadows with good pigmentation
(that is rare for drugstore eyeshadows, you know!). I am not that excited about the V1 tough, I know that I won´t use that bright eyeshadows... As far as I know these aren´t LIMITED edition. Available:
sleekmakeup.com 9.49€
/ £7 (out of stock at the moment) or
ebay (shipping to Estonia)
around 10€.
3. Sleek makeup Face contour kit in Light:
light matte contour shade and decent highlighter. I haven´t tried this before, but I think I will love it. Available:
sleekmakeup.com
9.95€. Color selection: 3 shades available: light, medium, dark. (I ordered it yesterday)
4. Sleek makeup Blush by 3 in Lace: perfect colors for a pale girl like myself, middle one should be exact dupe for NARS orgasm. You can buy that shade independently too, then it is called Rose Gold. Sleek blushes are known to be very pigmented and finely milled, so for that quality - what a bargain!
Available
sleekmakeup.com
, price is 13€. (I ordered it yesterday)
5. Sleek makeup Pount paint in Milkshake:
this tone is perfect for summer and goes great vith blushes from Lace. If I like this pount paint I am going to buy a whole bunch of them: great for mixing perfect colors by yourself. Price is 7€ and available
here
.(I ordered it yesterday)
6.Loreal Caresse lipsticks: they should be very comparable to Revlon lip butter- light and moisturizing. Not available in Estonia, but maybe I can order them from ebay.co.uk, 12 shades available. Price is around 15 €. I haven´t chosen the exact tone yet.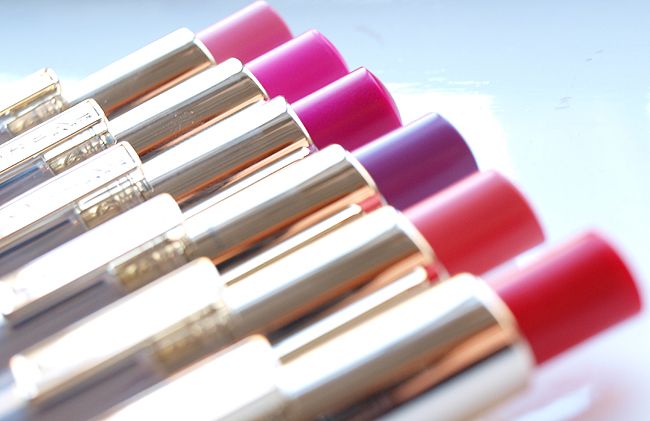 Picture source: www.misslipgloss.nl
That´s all now! Let me know have you tried any of these and how did you like them?
Thank you for reading!